After a campaign by its loyal fans to bring the Hellblazer series adaptation back on the small screen, it looks like John  Constantine is actually set to return to TV. Although the NBC series is officially canned and the efforts to revive the show in another network proved futile, Matt Ryan's Constantine will still have a chance to don his old trench coat when he visits Oliver Queen (Stephen Amell) in CW's Arrow.
The CW presentation in this year's TCAs revealed that John Constantine will guest-star in the fifth episode of Arrow's fourth season titled "Haunted". Since rumors suggest that the production of Arrow has finished shooting the first five episodes, it's likely that Matt Ryan has already visited the filming location and filmed his scenes. A description by the CW confirms that Constantine will "provide valuable support" to the Arrow of Star City.
"We are thrilled to have Matt Ryan reprise the role of John Constantine on an upcoming episode of Arrow. Matt is an incredibly talented actor and his portrayal of this beloved character was always something we admired," said Marc Guggenheim, the executive producer of Arrow. "The introduction of magic and mysticism on the show this season has provided a truly organic opportunity for us to bring John Constantine to Arrow and the CW's DC universe. It will be a well-deserved tip of the hat to all the Constantine fans who were so incredibly supportive of that series."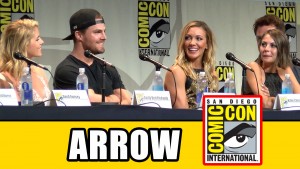 Just as Guggenheim stated, Arrow's fourth season will explore the more mystical side of the DC universe. With that in mind, this is a great time to introduce Ryan's character in the world of Arrow and Flash. As a demon hunter and master of occult, Constantine is perfectly suited to help Arrow and his friends in battling dark forces greater than any normal human can defeat.
Before the announcement, Stephen Amell posted a tweet offering to guest star as  the Arrow on Constantine if the series does get revived. "#SaveConstantine — Hey TV Networks / Netflix and the like… If you pick up the show, I'll guest star." Matt Ryan responded enthusiastically stating that it would be a  "real pleasure to explore these guys' dynamic."
When the cameo was finally announced, Matt Ryan followed up the news with a video message to all the Hellblazer fans. "The Trench Coat is being dusted off.  #Constantine #Arrow @CW_Arrow @amellywood looking forward to it. #thisfall "
https://twitter.com/mattryanreal/status/631211617859059712
Arrow's filming location in Vancouver makes it easier for other CW shows to crossover since the shows share these sets, so there's a small chance that Constantine will also cross over to The Flash and Legends of Tomorrow. For now, we'll have to wait for Arrow's fifth episode to find out the demon hunter's future in the DC universe. Arrow's new season premieres on Wednesday, October 7th.