Bollywood – Our Hindi Cinema Industry has completed glorious 100 years and reached new heights over the years. It has produced Legends, it has produced Blockbusters, It has fulfilled many dreams, it has shattered many of them.  Flickstime.com brings for you facts that will blow your lid off and make you go *SCOFF*
We watch Flicks, we like flicks, we hate flicks. We admire actors, we hate some actors and we go head over heels for some. Here are some facts related to bollywood that you might not have known at all.
1) Saif Ali Khan was the original choice for Shahrukh Khan's role in 'Dilwale Dulhania Le Jayenge'.  Even Tom Cruise was considered for the role of Raj Malhotra (SRK's role in the film).
2)  Aamir Khan's 'Lagaan' had the maximum number of British actors ever to be cast in a single movie in the history of Bollywood cinema.
3)  In the film 'Heroine,' Kareena Kapoor wore over 130 different dresses by top fashion designers from all over the world.
Girls would have started to go all Ms. J…. Don't Worry Gals, the dresses were duly returned, except for the bedsheets… Wait! What????
4) 'Kaho Naa.. Pyar Hai' was added to the Guinness Book of World Records 2002 edition for winning the most number of awards for a movie. The movie won a total of 92 awards!
All that begins well, does not go on well, What say Ms. Antriksha Parel, I mean Ms. Manisha Patel… I mean…. Anisha …ooohh whatever… directors don't care, so why should we.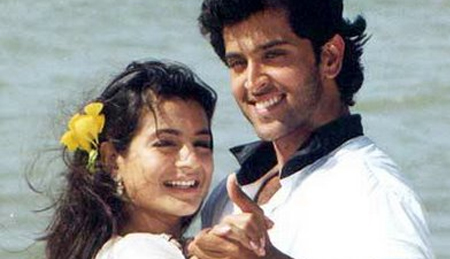 5) Rajnikanth never said "Enna Rascala!"
All the Rajni Fans… Don't miss the chance…. Go and find a movie in which he says so…. Huhhh!
6) Bollywood actress Kalki Koechlin's great-grandfather Maurice Koechlin, was the Chief engineer for the construction of the Eiffel Tower in Paris, and also the iconic Statue of Liberty.
Well, Well genes do skip generations… we are not saying it did… all we are saying is… it does many a times…
7) Hrithik's actual surname is Nagrath & not Roshan!
NAAGRATH NAAM HAI MERA…. HRITHIK NAAGRATH!!! Ab pata chala is body ka raaz, God like name, god like figure.
8) Mera Naam Joker & LOC: Kargil both with a run time of 255 minutes are the longest films ever made in India.
With Raj Kapoor's 'Mera Naam Joker' was the first Hindi movie to have not one but two intervals!
9) The song 'Choli Ke Peeche' was protested against by a large number of political parties
In the name of the god, why such injustice.  Politically correct. Are we? Kukukukukukukukukukukukukuukukuku!!!